SoX SNAPP Webinar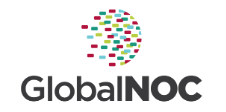 Our Participants were invited to attend a webinar with the GlobalNOC systems engineering support to review SNAPP and how to use an API to illustrate SNAPP on their institutions' portal. The webinar took place on Thursday, November 4th, 2021 at 10am EDT.
SNAPP for SoX contains analysis on traffic level (high/low water marks), monitoring interfaces for errors, growth, and being able to quantify changes in aggregate network performance for all interfaces on SoX routers and switches. 
This data is collected every minute and saved to GlobalNOC's in house telemetry system called TSDS. Stored alongside the data is an array of metadata populated about each interface – its description, what circuits it supports, what customers are connected to it, and more. All of this data and metadata are accessible via a REST-like API for use in external portals and research. At this presentation, we reviewed some of the fundamentals of what this data looks like and how to get access to it for your own usage.