Southern Crossroads 2022 Spring Participants Meeting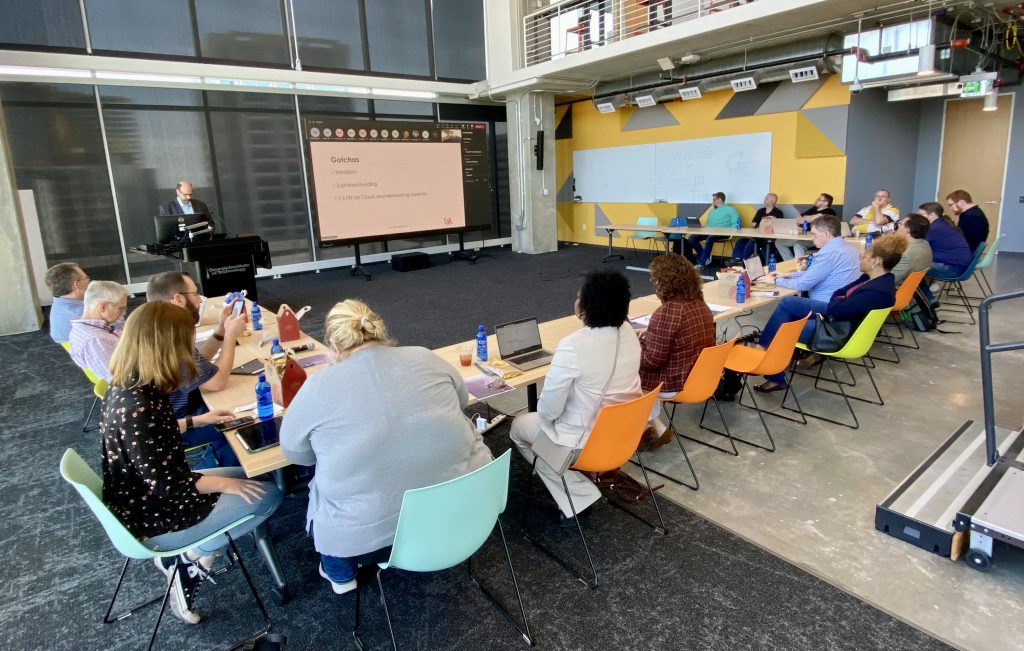 Southern Crossroads –SoX held its 2022 Spring Participants meeting on Thursday, March 24 in Atlanta, Georgia. This was the second in-person Participants meeting held since the start of the Covid-19 pandemic. Typically, SoX meetings are held twice a year.

Participants from several colleges and universities gathered at the Coda building in Midtown Atlanta for what was a very impactful and exciting meeting. Many Participants chose to attend virtually, from various areas across the region.

The meeting agenda was comprised of an overview of ongoing SoX projects, network updates, and two panel discussions.

Cas D'Angelo, SoX President, provided an overview of projects that were taking place within the SoX community. He included an update on the current NSF grant award that SoX is partnering on with Georgia Tech. The project is entitled "CC* Regional: Promoting Research and Education at Small Colleges in Alabama through Network Architecture Enhancements". The project has focused on connecting South Alabama University and Alabama A&M University to the SoX network. The project has experienced some delays due to the impacts the Covid-19 pandemic has had on the supply chain. As a result, Georgia Tech would be considering a project extension, to provide more time for deliverables and milestones to be met. D'Angelo serves as Principal Investigator for Georgia Tech.

D'Angelo also indicated that SoX would possibly be in collaboration with Georgia Tech on an additional NSF CC* project that involved institutions of the Atlanta University Center and Tuskegee University in Tuskegee AL. Georgia Tech hoped to hear back from the NSF later in the spring regarding the award status.

SoX Participants got an opportunity to listen to and engage in two panel discussions. The first panel focused on the topic of "Network Solutions for Campus Researchers". Panelists shared information regarding current network connections including challenges and recommendations. Much of the conversation highlighted the impact of network coming in/out of the pandemic and how being connected to SoX had been beneficial in resolving many of their network issues.

The other panel discussion was centered around "The Great Resignation". Guest panelists from around the SoX community presented their organizational profiles including employment statistics before and after the global pandemic. Many stated that individuals from their respective institutions had taken employment opportunities within the private sector, largely due to flexible work arrangements and higher wages. Panelists shared their plans to retain employment and recruit new talent in the next 1-2 years.

The 2022 Spring Meeting ended over dinner, with more discussion around networking, research, and collaboration.