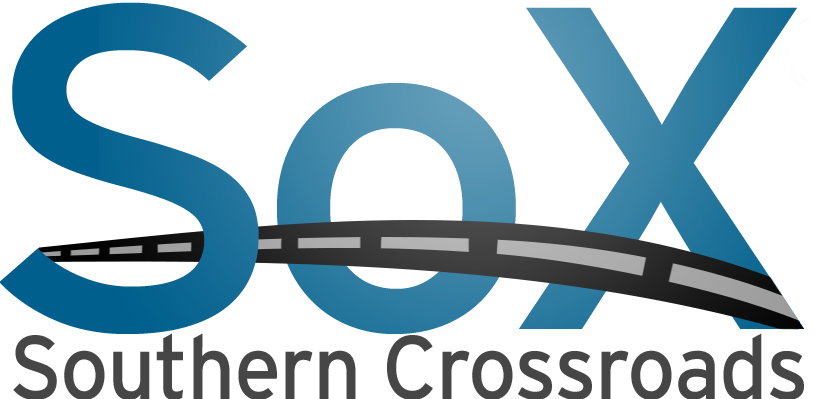 Southern Crossroads Semiannual Participants Meeting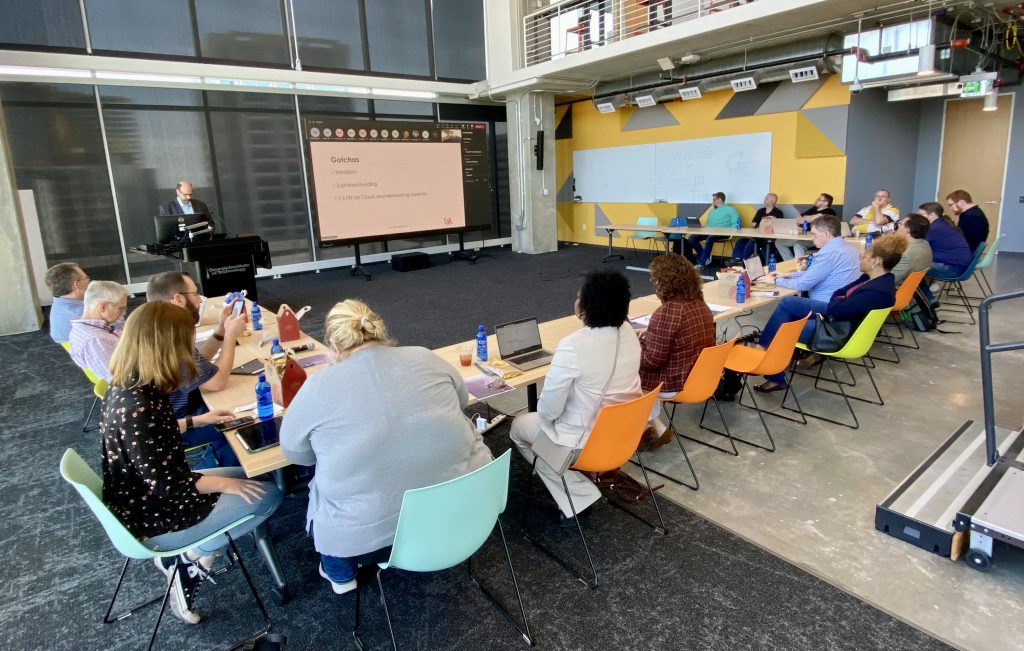 Southern Crossroads –SoX held its spring Participants meeting on Thursday, March 24 in Atlanta, Georgia.  This was the second in-person Participants meeting held since the start of the Covid-19 pandemic.  Typically, SoX meetings are held twice a year.

Participants from several colleges and universities gathered at the Coda building in Midtown Atlanta for what was a very impactful and exciting meeting.  Many Participants chose to attend virtually, from various areas across the region.

The meeting agenda was comprised of an overview of ongoing SoX projects, network updates, and two panel discussions.

Cas D'Angelo, SoX President, provided an overview of projects that were taking place within the SoX community.  He included an update on the current NSF grant award that SoX is partnering on with Georgia Tech.  The project is entitled "CC* Regional:   Promoting Research and Education at Small Colleges in Alabama through Network Architecture Enhancements".  The project has focused on connecting South Alabama University and Alabama A&M University to the SoX network.  The project has experienced some delays due to the impacts the Covid-19 pandemic has had on the supply chain.  As a result, Georgia Tech would be considering a project extension, to provide more time for deliverables and milestones to be met.  D'Angelo serves as Principal Investigator for Georgia Tech. 

D'Angelo also indicated that SoX would possibly be in collaboration with Georgia Tech on an additional NSF CC* project that involved institutions of the Atlanta University Center and Tuskegee University in Tuskegee AL. Georgia Tech hoped to hear back from the NSF later in the spring regarding the award status.

SoX Participants got an opportunity to listen to and engage in two panel discussions. The first panel focused on the topic of "Network Solutions for Campus Researchers". Panelists shared information regarding current network connections including challenges and recommendations. Much of the conversation highlighted the impact of network coming in/out of the pandemic and how being connected to SoX had been beneficial in resolving many of their network issues.

The other panel discussion was centered around "The Great Resignation". Guest panelists from around the SoX community presented their organizational profiles including employment statistics before and after the global pandemic. Many stated that individuals from their respective institutions had taken employment opportunities within the private sector, largely due to flexible work arrangements and higher wages. Panelists shared their plans to retain employment and recruit new talent in the next 1-2 years.

The spring meeting ended over dinner, with more discussion around networking, research, and collaboration.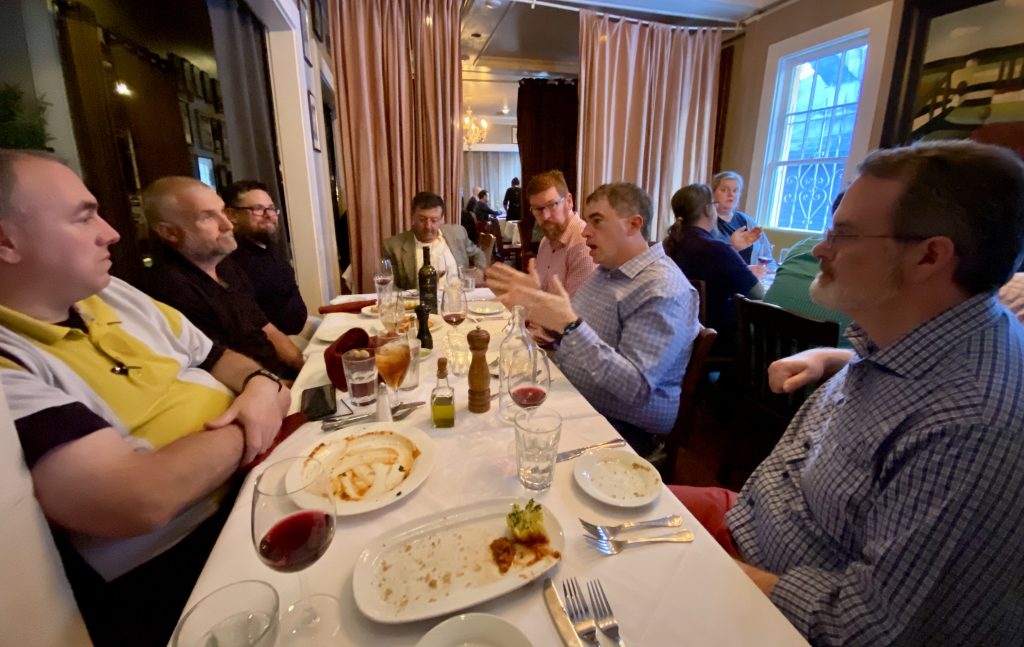 Georgia Tech to Help Expand Research at Historically Black Colleges  and Universities
Jul 13, 2022 — Atlanta, GA
Georgia Tech's Office of Information Technology was recently awarded a grant from the National Science Foundation to enable network and research enhancements for nearby historically black colleges and universities.
Georgia Tech's Office of Information Technology (OIT) was recently awarded a $995,550 grant from the National Science Foundation (NSF) to enable network and research enhancements for nearby historically black colleges and universities (HBCUs).  
The NSF grant will fund at 100 percent a two-year project titled Promoting Research and Education at Small Colleges in the Atlanta University Center and at Tuskegee University Through Network Architecture Enhancements. Through this project, Georgia Tech, in collaboration with Southern Crossroads (SoX), will extend advanced networking services and cyberinfrastructure access to Clark Atlanta University, Morehouse School of Medicine, Spelman College, and Tuskegee University. The project includes a robust training and support program to ensure proper adoption and success for researchers and educators at participating institutions. The Atlanta University Consortium (AUC) Woodruff Library will benefit from network upgrades through the grant as well.
Cas D'Angelo, OIT associate vice president and chief operating officer, serves as principal investigator for the project. He also serves as president of SoX, a Georgia Tech affiliate organization that serves nonprofit education, research, and government entities with cyberinfrastructure and global high-performance connectivity. 
"We started preparing a compelling proposal package that would demonstrate the need and value to the research community in early 2021," said D'Angelo. "For years, we have been working to get institutions within the AUC — the oldest and largest contiguous consortium of African American higher education institutions in the U.S. — connected to the SoX regional network, given their proximity. This project provides us with that opportunity."  
This project will also lay the groundwork for expansion to other HBCUs.
The NSF has solicited proposals to support traditionally underserved institutions of higher education through partnerships with regional entities that have experience in high-performance research and education networking like Georgia Tech. Special emphasis has been placed on HBCUs, tribal colleges and universities, and other traditionally minority-serving institutions.    

SCINet: A Really Interesting, Short-lived Network
From NOAA's N-Wave News, Issue 19 (May 2022)
The International Conference for High Performance Computing, Networking, Storage and Analysis – informally known as SC and formerly known as Supercomputing – is held every November in various cities around the U.S. Of interest to those of a [computer] networking persuasion, SCinet is the network built for SC each year. The network is built from scratch by volunteers from around the U.S., and internationally, with the needed hardware and circuits loaned by a variety of vendors, including Ciena, Cisco, Juniper, Lumen, ESnet, Internet2, etc. If you are interested in helping, there are openings available for volunteers this year and in 2023. SCinet is a state-of-the-art, leading edge network evolving as technology does.
While the design for this year's event is in the beginning stages, several 400G circuits are expected, plus many 100G circuits. Over 150 volunteer professionals take a year to design it followed by a month to build it. SCinet is then used for a week to support the technical conference and exhibits at SC. And in a day, all is torn down, packed up and shipped back to the vendors who have loaned their equipment.
If you are interested in being part of SCinet, of working with some of the best network professionals and learning about new hardware and techniques, then consider volunteering. The SCinet volunteers are broken into 16 teams. You can find a description of each here. If one or more has piqued your interest, then drop a note to SCinet here. For next year's conference, all teams will have openings. For 2022, some teams have all the volunteers they need but you shouldn't hesitate to submit your areas of interest. The fiber, edge, and wireless teams are the most likely to need additional volunteers for this year. For more information, please go to https://sc22.supercomputing.org/scinet/participate-scinet/
One note on participating in SCinet: Volunteers will need to provide their travel, lodging and meals. SC/SCinet arranges for a block of hotel rooms very close to the conference's location with both government and non-government rates for volunteers to book. Participating in SCinet is a real world hands-on experience and can be part of a comprehensive training plan.
In past SC's, N-Wave staff have joined various teams and held the Chair position for the wireless, architecture and wide area network teams. SC22 will be held November 13-18, 2022, in Dallas, TX. The preceding three weeks will be when most of the assembly and turn-up takes place – some in Dallas and some remote. There will be planning calls in the months prior to discuss the design and implementation.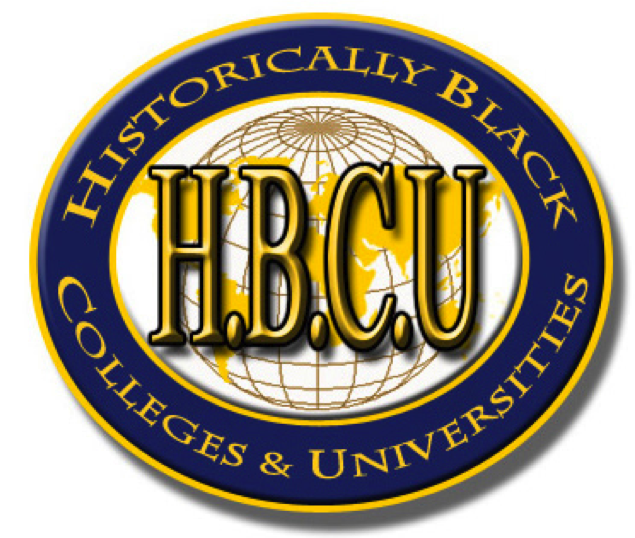 Georgia Tech and HBCUs Awarded Grant to Enhance Connectivity
Georgia Tech, working in collaboration with Southern Light Rail (SLR) and its high-speed research network Southern Crossroads (SoX), is pleased to announce that they have been awarded a CC* grant through the National Science Foundation. This award is allowing Georgia Tech to install pre-configured hardware appliances for connectivity, performance management, and large data transfers at SoX which will enhance connectivity to smaller and HBCU institutions in Alabama.
Both the Alabama Agricultural and Mechanical University (AAMU) and the University of South Alabama (USA) will benefit by being able to transition their connectivity from a low-bandwidth ISP to a true high speed R&E network to increase their research efforts in the field of multi-spectral imaging for medical and other life science applications as well as the analysis of sensor data from airplanes.
With the enhancement of the network at AAMU, this will further research by assisting UAVs to manage agricultural data collection and analysis, improve astrophysics visualization and virtual mentoring research. The University of South Alabama will be able to increase the data transfer between their university and industry partners eliminating the need to exchange physical hard drives.